Description
Eco-Prime Emerald Mini Prill
Eco-Prime Emerald Mini Prill is a complete rock-mineral NPK turf fertiliser designed to enhance the appearance, consistency and playability of premium sports turf surfaces.
Emerald Mini Prill is designed to discretely optimise premium turf areas by selectively balancing nutrition to promote strong root growth and improved leaf strength – leading to hard wearing and tightly knitted playing surfaces.
Our unique combination of natural, mineral-based NPK and trace elements is further enhanced through the addition of beneficial microbes that encourage and stimulate soil / plant interactions.
KEY BENEFITS:
Discrete 1-2mm Prill
Sustained Release
Low Leaching
Biologically Activated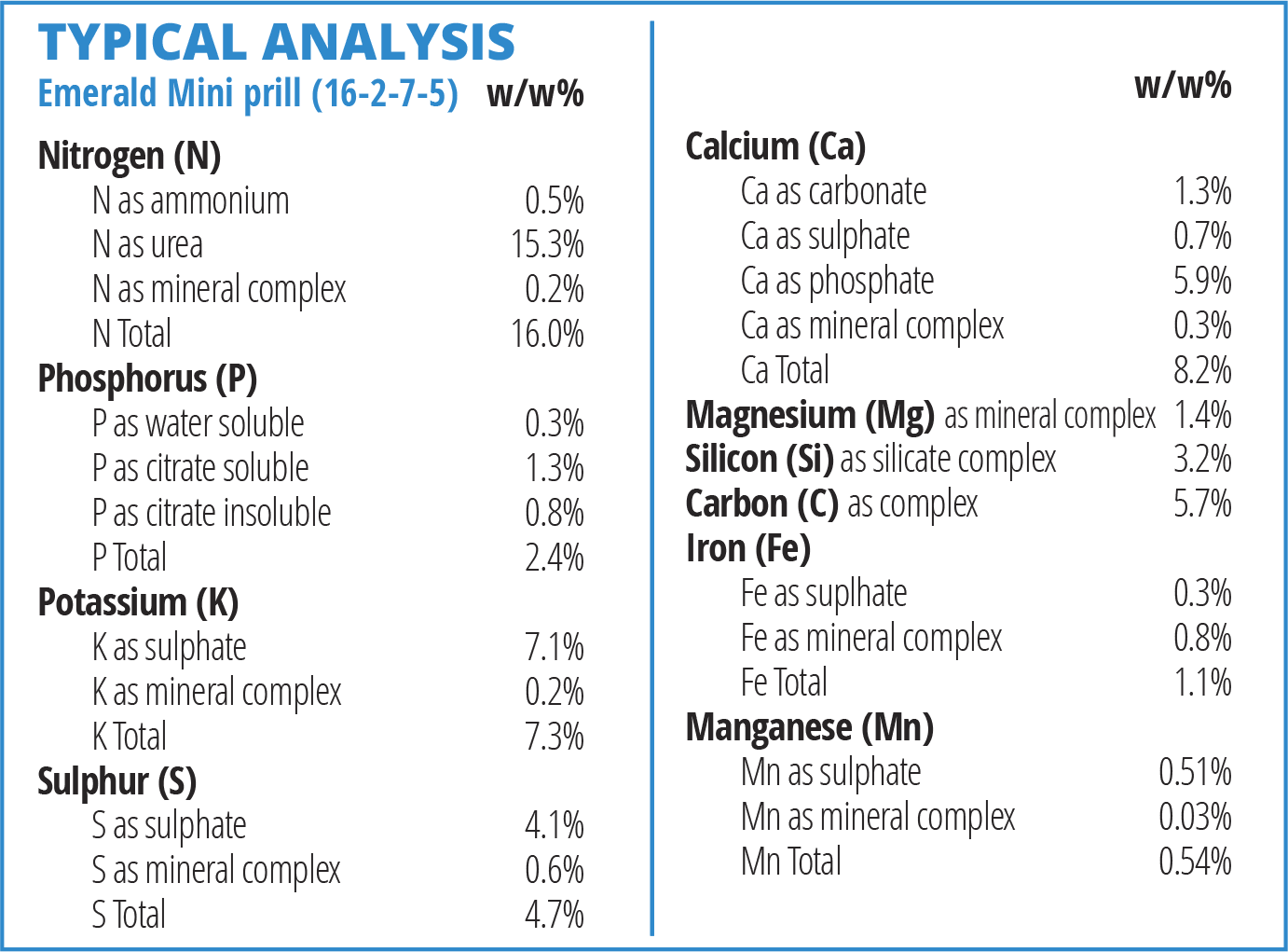 APPLICATION
| Crop/Plant Type | Rate | Nitrogen | Timing |
| --- | --- | --- | --- |
| Premium Turf | 350kg/ha | 40.5kg/ha | As required |
| Ovals | 250kg/ha | | As required. |
How To Use Eco-Prime Emerald
Eco-Prime Emerald is very easy to use. It should be applied lightly and regularly. This is because our sand does not retain nutrients very well. A very light fertilise often will keep the nutrient level up for a green healthy lawn without getting massive growth flushes.
If your lawn is very hungry – you can tell this because it will lack colour and vitality. You should apply it at 30g per sqm.
You cannot apply to much if you water it in well. After it is watered in it is safe for pets and children to go out on the lawn. DO NOT apply unless you intend to water in thoroughly. Do not rely on the rain to do it unless we are going to get over 10mls of rain in a short period. You can burn the leaf on your grass if not watered in properly.
Try and spread as evenly as possible. You will notice if we get it wrong by some of your lawn being bright green and lush and other areas not so good. If you reapply and still have patches maybe you need to check your retic for the cause of dry patch.
For more information on Dry Patch in your lawn see
https://www.lawndoctor.com.au/dry-patches-in-your-lawn/
Our staff in store are able to help you with all of this.